Yosemite is the poster child of California's national parks. Serving breathtaking views and offering a variety of recreational activities for visitors, it's no surprise that the park has hosted an average of over 4 million visitors per year since 2013. The park's unique terrain of steep cliff sides, roaring waterfalls, and a host of wildlife make it a must-see destination. However, these same features also contribute to the large number of deaths that occur within Yosemite's grounds. In this study, we take a closer look at the deaths and fatal accidents that have taken place in the national park.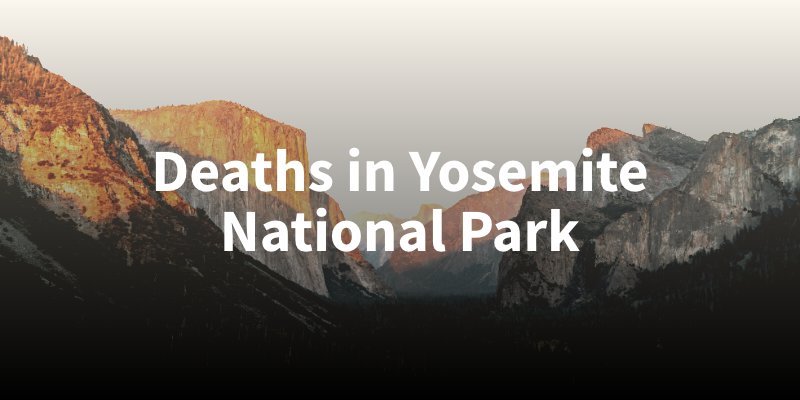 Table of Contents
How Many People Die at Yosemite National Park?
There have been about 1,300 deaths at Yosemite since the park was established in 1890. There is no complete data set that tracks fatalities within the park, but this is the best estimation given the available data. On average, there are 12 to 15 deaths per year in Yosemite.
According to data released by the national parks service covering fatalities between 2007 and 2023, there were 163 deaths in that time period. The top 3 common causes of death were:
Slips/falls: 53
Natural death: 33
Drowning: 21
Common Causes of Yosemite Deaths
| Cause of Death (2007-2023) | Count of Deaths |
| --- | --- |
| Slips/Falls | 53 |
| Natural Death | 33 |
| Drowning | 21 |
| Undetermined | 15 |
| Motor Vehicle Crash | 10 |
| Suicide | 9 |
| Environmental | 6 |
| Natural/Environmental | 5 |
| Other | 3 |
| Medical | 2 |
| Not Reported | 2 |
| Poisoning | 2 |
| Other Specified | 1 |
| Other Transport Crash | 1 |
| Total | 163 |
Falls
Falls are the leading cause of death in Yosemite. Climbers and hikers alike succumb to the arduous journey to the top of Yosemite's famous peaks. Between 2007 and 2023, there have been 53 fall deaths out of a total 163 deaths during the same time period. These deaths can be attributed to slips and trips, as well as those who fell to their death while trying to take photos for social media. Here are some notable deaths in Yosemite as a result of a fall.
Notable Deaths
Location: Nevada Falls
Date: September 4, 2018
Situation: An 18 year-old visiting Yosemite plunged nearly 600 feet to his death from the top of Nevada Falls. Witnesses say the teen was attempting to duplicate a photo he saw on Instagram.
Location: Taft Point
Date: October 25, 2018
Situation: While taking a selfie at a popular overlook spot, a married couple fell about 800 feet to their deaths. It was later reported that intoxication may have contributed to the tragic accident.
Location: Half Dome
Date: September 5, 2019
Situation: While ascending the steepest portion of the hike to Half Dome's peak, a 29 year old woman lost her footing on the cables section of the climb and fell over 500 feet to her death.
Drowning/Swept Away
Yosemite is home to more than 2,000 lakes and over 25 waterfalls. Fueled by fast flowing rivers and streams, tourists must respect the danger presented by this beautiful park feature. Visitors should think twice before swimming or crossing bodies of water. Fallen trees, boulders, and other dangers could lurk just below the surface of streams. Additionally, the ice cold water in Yosemite's rivers and lakes elevates the risk for hypothermia. The risks for drowning exist year round but danger is elevated by melting snow and spring rainfall.
Notable Deaths
Location: Lake Yosemite
Date: March 27, 2022
Situation: Two 23-year-olds of Merced jumped into Lake Yosemite. Shortly after, bystanders noticed one of the men began struggling while the other went underwater and never surfaced. Rescuers were able to pull the struggling swimmer out of the water and perform CPR, however, both men eventually succumbed to drowning.
Location: Merced River
Date: August 15, 2012
Situation: A 10-year-old and 6-year-old boy were swimming near a footbridge on the Mist Trail to Vernal Fall when tragedy struck. The strong current swept away the boys. The 10 year old boy was pulled 150 yards downstream where a visitor pulled the boy to shore, and administered CPR to no avail. He was pronounced dead by park rangers after further resuscitation efforts. The 6 year old boy was missing for over a week when rescuers found his body and recovered it from the stream.
Location: Vernal Fall
Date: July 19, 2011
Situation: At the top of Vernal Fall, 3 guests crossed over the barricade for a closer look at the 317 foot waterfall, ignoring posted signs to stay back. Two victims clung to each other as they slipped and were swept away towards the waterfall. In an attempt to rescue the two from the falls, a man followed them over the edge after reaching for them and slipping himself. One of the three bodies was recovered two weeks after the accident. The other two were found months later near the falls in August and December.
Rock Slides
Rockfalls are a common occurrence in Yosemite. In this study, many fatalities due to rockslide were categorized under "undetermined." The causes of rockfalls can be attributed to a variety of natural processes that essentially loosen unstable rocks. In 2022, there were 52 total rockfalls with a cumulative volume of about 6,250 tons. The park is actively addressing rockfall risks by using the latest technologies to map potential rockfalls and take preventative action. Their efforts lead to a 95% reduced risk in rockfalls.
Notable Deaths
Location: El Portal Road
Date: December 27, 2022
Situation: Two park visitors were killed in a "significant rockslide" near the entrance of Yosemite park between Arch Rock Entrance Gate and Yosemite Park Boulder. The rockfall resulted in a 6 hour road closure.
Location: Mist Trail
Date: February 24, 2019
Situation: Ignoring trail closure signs, a 56-year-old woman was killed by falling rocks and ice while hiking the Mist Trail toward Vernal Fall with a friend.
Location: ​​El Capitan
Date: September 27, 2017
Situation: A 32-year-old man and his wife were hit by over 1,000 tons of falling rock while they were scouting their route on the El Capitan rock face. A sheet of granite fell from about 660 feet, striking the couple. According to the coroner, the man used his body as a shield to protect his wife. His wife survived with critical injuries and he unfortunately passed from his injuries.
Yosemite Climbing Fatalities and Injuries
On average:
There are 2.5 climbing deaths per year.
There are over 100 climbing accidents per year.
Climbers break at least 50 bones per year.
Most injuries are to the feet, ankles, or lower legs.
Between 25,000 and 50,000 climbers flock to Yosemite per year. Despite the high number of climbing visitors, the park sees a relatively low rate of accidents and deaths.
Leading Causes of Death and Injury for Climbers in Yosemite:
25% leader falls
10% rock falls
25% free solo/unroped falls
40% gear mistakes
Yosemite Deaths by Location
While deaths may occur anywhere in the park, visitors are more likely to die in these areas:
Half Dome
Over 20 deaths have been documented on Half Dome. There have been 9 deaths on the infamous cable section of the Half Dome trail since it was installed in 1919, five of which occurred due to slipping in wet weather. If deaths on the trail leading to Half Dome are included, the number of fatalities jumps to 60.
El Capitan
There have been over 30 recorded climbing deaths on El Capitan between 1905 and 2023. In the last decade, there have been 7 climbing deaths on the prolific rock face. It's speculated that death rates have increased for climbers due to heightened popularity around timed climbing, gaining social media clout, and perusal of sponsorship deals. 
Yosemite Deaths by Month (2007-2023)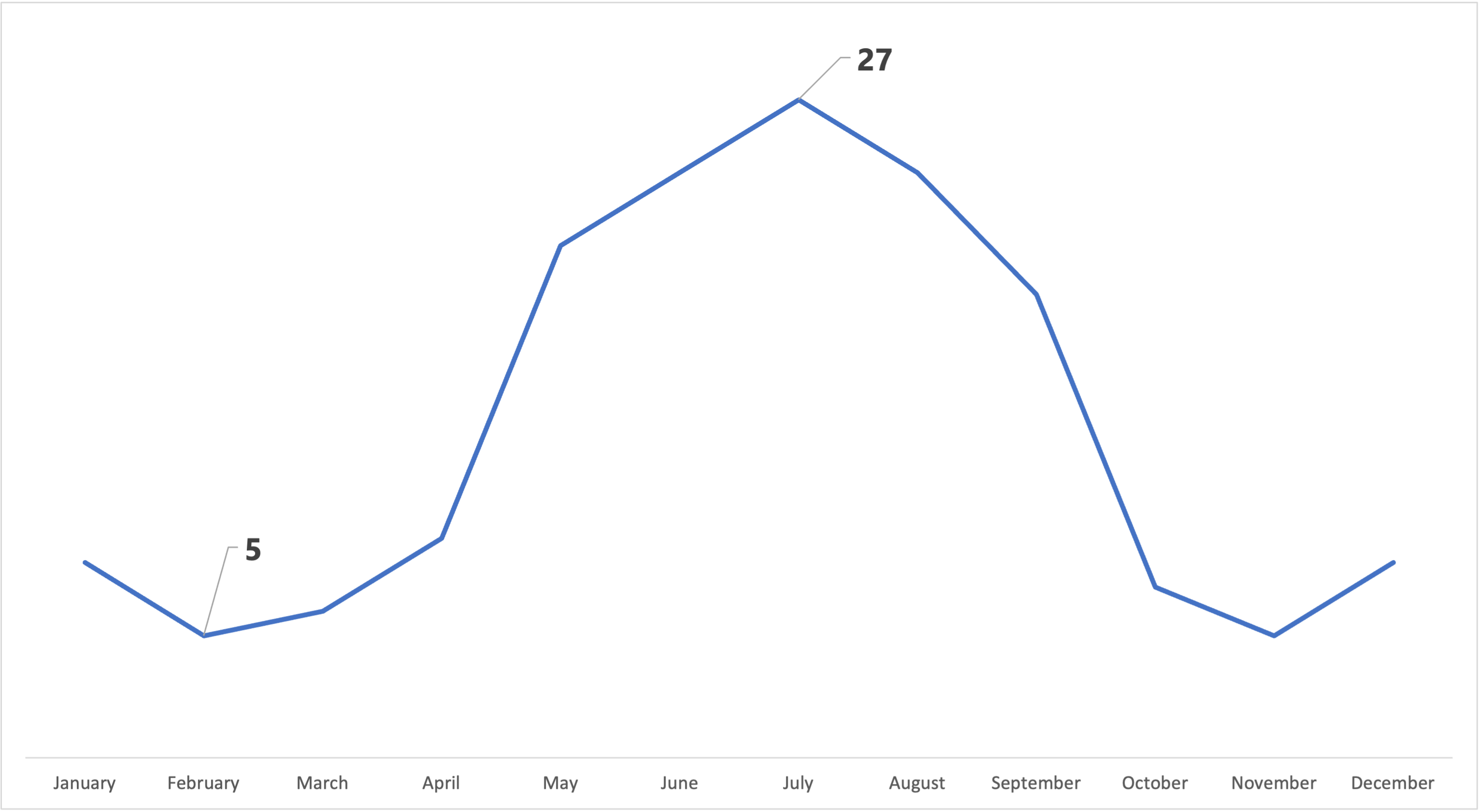 Looking at fatality statistics from 2007-2023, the most deadly months in Yosemite are between May and September. This coincides with the national park's busiest 6 month timeframe when 75% of the park's annual visitors come to Yosemite; May through October.
Yosemite Deaths by Gender (2007-2023)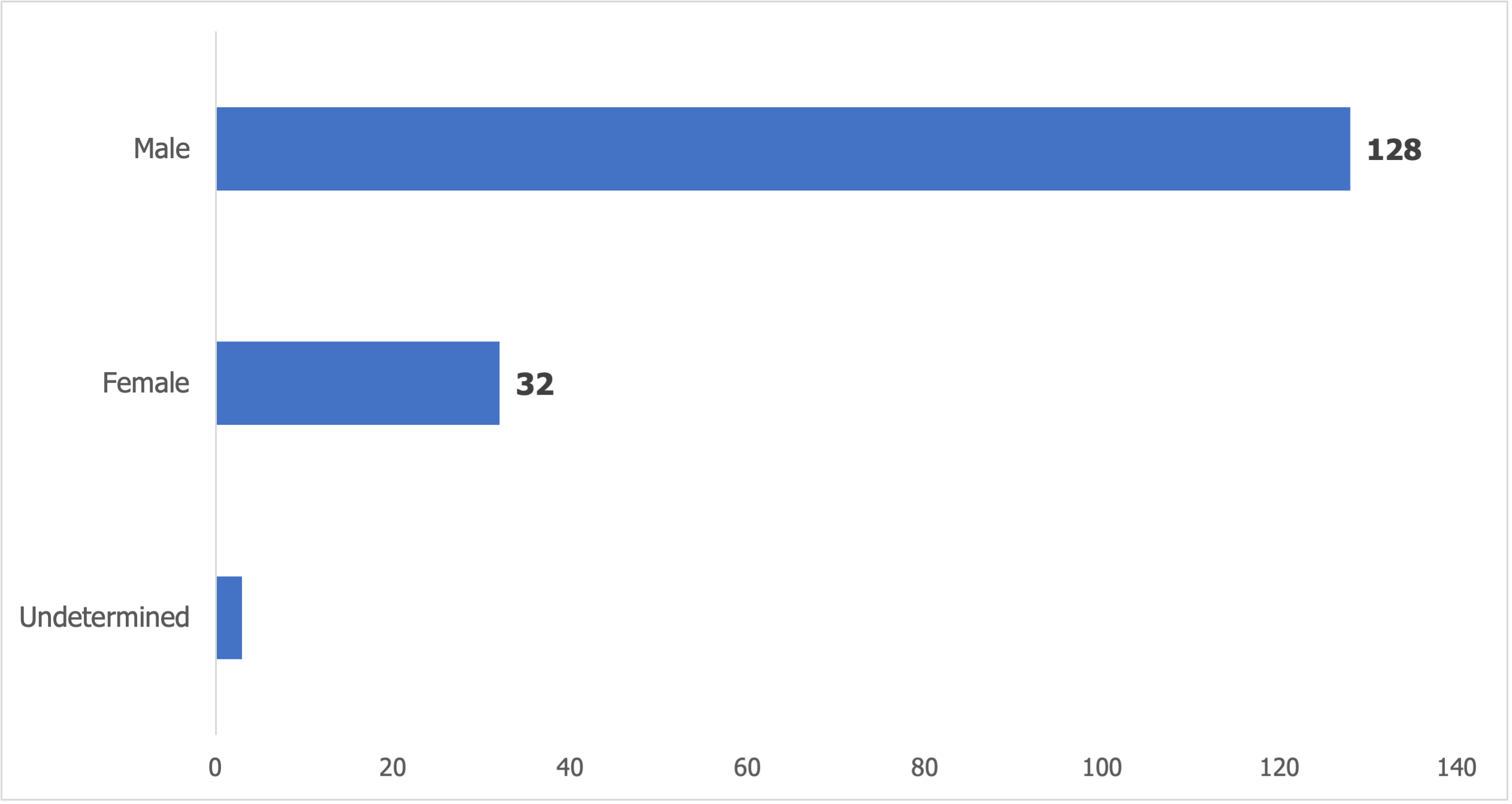 Males are significantly more likely to die in Yosemite. 

During this study, males were 4 times more likely to die than females with a total of 128 deaths.
Deaths by Age Range (2007-2023)
| Age Range | Deaths |
| --- | --- |
| 0-14 | 3 |
| 15-24 | 24 |
| 25-34 | 30 |
| 35-44 | 22 |
| 45-54 | 25 |
| 55-64 | 23 |
| 65+ | 27 |
| Undetermined | 9 |
In this 16 year span, the 25-34 age group is most likely to die at Yosemite.
The number one cause of death for the age groups 55-64 and 65+ are natural causes, accounting for more than half of the age group's deaths.
Data Sources, Takeaways, and Methodology
Data was collected through the National Park Service website and various news articles. There is no complete record of deaths in Yosemite, totals were calculated using available data. Though many deaths have occurred within the park, Yosemite is a relatively safe national park with a death rate of 28.01 deaths per 10 million visitors. For more information on wrongful deaths, speak with our experienced Fresno personal injury lawyers.