We pay for ALL up-front expenses.
We don't get paid unless you do.
Calls, consultations, & questions are
always welcomed by our attorneys.
We will handle the stress of dealing with
insurance companies for you.
Selected as a member of the
Multi-million Dollar Advocates Forum.
Fresno Truck Accident Attorney
SKILLED TRUCK ACCIDENT LAWYERS SERVING FRESNO, CA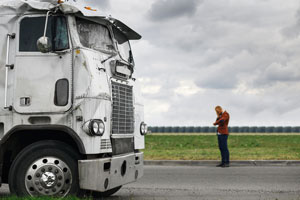 The trucking industry is a vital one to our economy, with freight traveling thousands of miles across Fresno, our state, and our country each day. But the trucking industry has been plagued by safety issues and devastating accidents. This has caused it to be one of the most highly-regulated industries in the nation in terms of safety.
What happens when, despite federal regulations, you have an industry that still imposes unreasonable schedules on companies and drivers moving those goods? With time equaling profit margins, it can lead to drivers working overtime, driving while fatigued or impaired, or ignoring needed maintenance on their rigs. The results are devastating accidents, injuries, and deaths.
Getting the Help of an Experienced Fresno Truck Accident Attorney

At Roberts and Spiegel Injury Lawyers, we have dedicated our careers to the victims of accidents and their families. Trucking accidents are particularly complicated, and individuals who have been injured in one should never try to navigate these complex settlements on their own. If you or a family member has been injured in a truck accident in Fresno, trust us to fight for your legal rights to compensation for your injuries.
How Do Truck Accidents Differ From Passenger Vehicle Accidents?
Truck accidents are extremely complicated for many different reasons and differ dramatically from car accidents. Consequently, investigating truck accidents can be technical and highly nuanced.
Liability in Truck Accidents in Fresno
One difference between car and truck accidents is the multiple parties that can be held liable in a truck accident. These can include the following:
Truck Driver Liability 
The most common party liable for a truck accident is the truck driver. The driver's negligence — which can include anything from distracted driving to driving under the influence — must be proven before they can be found at fault for your crash. 
Trucking Company Liability 
The trucking company itself may also face liability in a truck accident case. The company's responsibility comes into play due to their duty to maintain safe workplace conditions and follow federal laws and regulations pertaining to safety, such as hiring qualified drivers and properly inspecting vehicles before allowing them onto the road. 
If any of these duties were neglected or performed negligently by the company prior to an accident, then they may also share some responsibility for damages from the accident.
Manufacturer
A manufacturer of trucks or truck components can be held liable for a truck accident if it is found that a defect in the design or manufacturing of the truck or component caused or contributed to the accident. This is known as product liability.
An example of a defect in the design of a truck would be a brake system that is prone to failure, leading to a truck accident. In this case, the manufacturer could be held liable if they knew or should have known about the defect and failed to address it.
Loading Company
A company responsible for loading a truck can be held liable for an accident if it is found that their negligence in loading the truck caused or contributed to the accident.
To establish liability, it must be shown that the company had a duty to load the truck safely and properly, that this duty was breached, and that the breach caused the accident and resulting injuries.
Examples of ways in which a company may be negligent in loading a truck include:
Overloading the truck, which can cause the truck to be unstable on the road and more prone to accidents.

Failing to properly secure the load, which can cause the load to shift or fall off the truck during transit, leading to an accident.

Failing to properly distribute the weight of the load, which can also cause the truck to be unstable on the road.
If a company is found to be negligent in loading a truck and this negligence caused an accident, they can be held liable for the resulting damages, including property damage, medical expenses, lost income, and pain and suffering.
Sometimes, liability can overlap, each liable party with their own insurance company pointing blame at each other in order not to pay the claim.
What Caused the Accident?
Trucking companies and drivers are federally regulated to ensure optimum safety with things like hours-of-service limitations and other measures to cut down on dangerous truck accidents. Unfortunately, many truck accidents come down to human error.
Driver fatigue -- Despite hours-of-service mandates, time is money, and some drivers ignore these regulations and even go so far as fudging logged hours.
Driver impairment -- Alcohol and drug use are common factors in truck accidents around the country, despite regulations for random drug testing in the industry.
Driver distraction -- Driving a large rig for hours at a time can cause boredom. Drivers may then depend on distractions which takes their eyes and concentration off the road.
Speeding and overtaking -- Unreasonable scheduling often creates situations where drivers feel the need to make up for lost time by speeding and not maintaining the proper distance between vehicles.
Inadequate training -- Drivers who haven't been adequately trained to drive a 40-ton vehicle are not ready for some scenarios they find themselves in.
Improper maintenance -- Operating on tight budgets and timelines may cause drivers to forego needed maintenance of their rigs.
Improper loading -- A truck with cargo that has not been properly loaded or secured can be thrown off-balance, causing a devastating accident.
In many cases, it is up to the Fresno truck accident attorney to do an extensive investigation to determine the cause of the accident in order to prove legal liability.
Damages Are More Serious in Trucking Accidents
Because of the size and weight disparity between a semi-truck and a passenger vehicle, the damages caused by a truck accident can be far more serious and extensive. This can result in
More severe and life-altering injuries
More significant medical costs to the injured party
Greater property damages
Increased chances of fatalities and wrongful death
Trucking insurance companies understand the financial implications of these kinds of injury settlements and often make it as difficult as possible for an injured party to get fairly compensated. A Fresno truck accident lawyer will negotiate on your behalf to ensure that you get the compensation you deserve from the insurance company. If not, your lawyer will take the matter to court.
Types of Damages You Can Receive in a Truck Accident Claim 
If you've been involved in a truck accident, chances are you're looking for some financial relief. While the amount of compensation varies on a case-by-case basis, the following explains the most common types of damages: 
Economic Damages 
Economic damages are designed to compensate victims for their losses following an accident. This type of award is based on the actual cost incurred by the victim due to the accident—things like medical bills, lost wages, loss or destruction of property, and any other losses you incurred as a result of the accident. 
Non-Economic Damages 
Non-economic damages refer to intangible losses suffered by victims as a result of their accident that don't have an objective monetary value attached. These can include things like physical pain and suffering, mental anguish, scarring or disfigurement from injuries sustained in the accident, loss of consortium (loss of companionship), and loss of enjoyment of life.
Calculating non-economic damages typically requires expert testimony from medical professionals who specialize in evaluating these intangible losses.  
Punitive Damages 
Punitive damages exist to punish wrongdoers whose actions were particularly reprehensible or egregious—something that goes beyond simple negligence and reveals willful behavior on behalf of the defendant. 
In California, punitive damages are only awarded if you can show that the defendant acted with an evil hand and an evil mind. An example where punitive damages may be awarded is a severe drunk driving accident.
Getting the Legal Guidance of a Fresno Truck Accident Attorney
Proving liability in any motor vehicle accident can be complicated, but particularly in cases of trucking accidents. If you have been injured in a truck accident, the experienced Fresno truck accident lawyers at Roberts and Spiegel Injury Lawyers are here to help. Contact us for a complimentary consultation if you or a loved one has been injured in a truck accident in Fresno, Santa Maria, San Luis Obispo, or surrounding communities.
Request Your Free Consultation Now
Fill out the form below and we will respond immediately to help you with your questions.
Speak to our Experienced Fresno Truck Accident Lawyer
Have you or a loved one been injured or involved in a truck accident? More often than not, these Insurance agents and adjusters are looking to shortchange or cheat you out of fair compensation for obvious business reasons. Insist on speaking with a competent local Fresno truck accident attorney before you sign any settlement offer.
We have experience with handling these offers and we can naturally estimate fair estimation after an evaluation of your claim. Our Fresno truck accident lawyer is ready to fight for you. Book a free consultation with us or reach out to us by placing a call to (559) 201-0911 to discuss your case.