Fighting For Bicycle Accident Victims For Over 2 Decades
We pay for ALL up-front expenses.
We don't get paid unless you do.
Calls, consultations, & questions are
always welcomed by our attorneys.
We will handle the stress of dealing with
insurance companies for you.
Selected as a member of the
Multi-million Dollar Advocates Forum.
Fresno Bicycle Accident Attorney
SKILLED BICYCLE ACCIDENT LAWYERS SERVING FRESNO, CA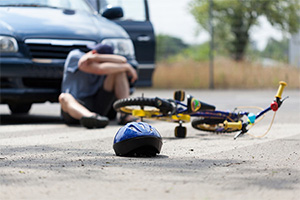 Accidents are unexpected and unplanned. They can disrupt the functions that a person would usually carry out, cause damages, and result in productivity loss. If you have been involved in a bicycle accident, you have the legal right to be compensated. Just this month, a bicyclist was hit by a car, according to ABC30. With accidents like this, you need to make sure you have proper representation.
Bicycle accidents are no joke as they can lead to abdominal trauma, bone fractures, brain injuries, spinal cord injuries, chest injuries, facial scarring, etc. and other economic damages. In addition to the physical and emotional difficulties of the accident, you will also have to bear a financial burden that only increases with the severity of your injuries.
You should not have to bear this burden though. Contacting a Roberts & Spiegel qualified Fresno bicycle accident attorney for compensation options, should be high on your priority list if you or a loved one has been involved in a bicycle accident.
Our Fresno bicycle accident attorneys at Roberts & Spiegel Injury Lawyers are experts at handling bicycle accident claims. We are known for our professionalism, skill, and experience. We have helped our clients in recovering full and complete compensations. Many residents have gotten their life and finances back on track with our assistance.
If you have been injured in a Fresno bicycle accident, contact us at Roberts & Spiegel Injury Law for fast and solid representation.
Compensation in a bicycle accident case
Over the years, there has been an increasing number of bicycle accidents. In 2015, the Center for Disease Control reported that there were 467,000 bicycle accidents resulting in lifetime medical costs and huge productivity losses of $10 billion dollars. In 2016 also, National Highway Traffic Safety Administration (NHTSA) recorded 840 bicycle crash-related fatalities. Sadly, these numbers have shown no sign of dwindling.
The volume of compensation that an injured cyclist can receive is based on different factors. Some of these factors include who is at fault for the collision, how severe the injury is, and whether the rider has suffered any permanent disability. Contacting a Fresno personal injury attorney is a priority because you should seek compensation with a full understanding of your right and options.
Here are some different reasons for crashes and how lawsuits can be filed in each scenario.
If a pedestrian or another cyclist caused the accident by obstructing or violating the cyclist's right-of-way, the cyclist can file a claim against them.
If a bicycle was poorly designed or repaired, the cyclist can file a claim against the company responsible for manufacturing or repairing the bicycle for the accident that occurred because of their negligence or oversight.
If the driver of a motor vehicle was the cause if the accident, the cyclist may file a claim against either the driver or the driver's auto insurance company.
If a dog or a pet, jumped at a cyclist or was in any way the reason for a bicycle accident, the cyclist can file a claim against the owner of the dog or pet.
If the road was in poor repair or the rider fell because of debris or potholes, the cyclist can file a claim against the government agencies responsible for designing or maintaining the road.
Deciding how and who to file a claim against is one of the first things we will help you figure out. Knowing which direction to go and intensifying our efforts in that direction will prove beneficial and result in positive outcomes.
What if you are partially to blame?
While this might put a hitch in our stride, it does not obstruct you from securing at least some form of compensation. Although, it is likely that you receive a lesser percentage than usual, depending on how much of the accident was your fault.
California operates a "comparative fault" system. This means that the damages an injured person would receive for their injuries would be reduced by the percentage of fault allocated to them. For instance, if you were 30% responsible for the accident, you would only receive 70% of the compensation awarded.
So, it is possible that you are compensated for your loss regardless of a fractional fault on your part. You will need to turn to your Fresno bicycle accident attorney for a full consult, highlighting everything you need to know to avoid exploitation by insurance companies.
Contact a qualified Fresno bicycle accident attorney today.
If you have sustained injuries and need a Fresno bicycle accident attorney, contact Roberts & Spiegel Injury Law. We help you solidify your chances of securing compensation and a positive outcome. Our Fresno car accident lawyer will assist you when involved in an accident. You can reach us at (559) 201-0911.
Request Your Free Consultation Now
Fill out the form below and we will respond immediately to help you with your questions.
Speak to our Experienced Fresno Bicycle Accident Lawyer
Have you or a loved one been injured or involved in a bicycle accident? Speaking with a competent local bicycle accident attorney before you sign any settlement offer will be in your best interest.

We have experience with handling these offers and we can naturally estimate fair estimation after an evaluation of your claim. Book a free consultation with us or reach out to us by placing a call to (559) 201-0911 to discuss your case.