Fighting For Motorcycle Accident Victims For Over 2 Decades
We pay for ALL up-front expenses.
We don't get paid unless you do.
Calls, consultations, & questions are
always welcomed by our attorneys.
We will handle the stress of dealing with
insurance companies for you.
Selected as a member of the
Multi-million Dollar Advocates Forum.
San Luis Obispo Motorcycle Accident Attorney
EXPERIENCED MOTORCYCLE ACCIDENT LAWYERS SERVING SAN LUIS OBISPO, CA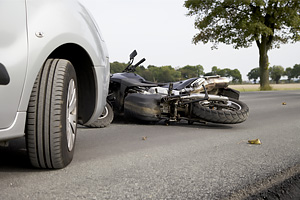 Motorcycles are very popular in California, whether for private or commercial use. Unsurprisingly, with more than 800,000 registered riders, the state has the highest number of motorcycle riders in the U.S. As a biker, you also have equal rights to use the road. If your rights were violated, leading to injuries in an accident, you can contact our San Luis Obispo motorcycle accident attorney to pursue a claim for damages.
Sadly, Motorcycle riders can be considered one of the most vulnerable on the road. The protection that most riders have is just a crash helmet and tough clothing. As a result, the injuries suffered by motorcyclists in an accident are usually very severe. In fact, motorcyclists are five times more likely to be injured in an accident, and motorcycle deaths occur up to 27 times more often than with other vehicles.
Unfortunately, many of these accidents are caused, not by the biker, but due to the inattentiveness of car and truck drivers. It is also caused by the failure of these other drivers to properly recognize or yield to a motorcyclist's rights on the road leading to a car accident.
At Roberts and Spiegel Injury Law, our attorneys are very experienced in handling motorcycle, moped, and scooter accident cases. If you require the services of a motorcycle accident lawyer in San Luis Obispo, call us at (805) 542-9900 or contact us online here.
Protecting the Legal Rights of Motorcyclists
As a rider of a motorcycle, moped, or scooter, you are entitled to the use of the road - just like any other motorist. The apparent problem, however, is that drivers of larger vehicles sometimes disregard this due to the size of motorcycles. Fatal accidents can occur because of the neglect of other drivers resulting in wrongful death.
Often, drivers of cars, trucks, buses, or other vehicles fail to yield the right of way to a motorcycle. Common excuses are that they did not see you coming or that you came out of nowhere.
But your rights as a road user must also be protected. It does not matter that a motorcycle is much smaller than a vehicle driven by another road user. If you were injured due to someone else's carelessness, you have the right to hold any them accountable for your injuries or damage to your motorcycle. You can file a claim against the at-fault driver. Likewise, you can also file a claim against the employer of a negligent driver.
Recovering Compensation in a Motorcycle Accident
San Luis Obispo, as with the whole of California is a 'pure comparative fault' state. What this means is that even if you had some fault in the accident, you may still be able to recover compensation from the other parties involved.
The compensation you're entitled to may cover all your medical bills, whether or not they were paid by insurance, Medi-Cal, Medicare, etc. You may also be able to file a claim for the damage done to your bike/property as a result of the accident. The settlements you can also get may include compensations for likely future pain or problems.
It is, however, important to note that there are so many actions to be taken before getting the compensation you deserve. Conducting an investigation, consulting an accident reconstruction expert, and interviewing witnesses, are just a handful of what you may need. With an experienced and well-connected San Luis Obispo motorcycle accident attorney, your rights to compensation will be safely protected.
Our San Luis Obispo Motorcycle Accident Attorney Knows How To Help
If you are a cyclist and you suffer an injury in a motorcycle accident in San Luis Obispo, you may be eligible to recover compensation for your injuries, pain, and suffering. The residents of San Luis Obispo have continually relied on us at Roberts and Spiegel to handle their motorcycle injury and personal injury cases for several years now. We can help you too. Get in touch with us online here or call us at (805) 542-9900 for a review of your case.
Request Your Free Consultation Now
Fill out the form below and we will respond immediately to help you with your questions.
Speak to our Experienced San Luis Obispo Car Accident Lawyer
More often than not, the Insurance agents and adjusters are looking to shortchange or cheat you out of fair compensation for obvious business reasons. Insist on speaking with a competent Local San Luis Obispo motorcycle accident attorney before you sign any settlement offer. We have experience with handling these offers and we can naturally estimate fair estimation after an evaluation of your claim. Our San Luis Obispo Motorcycle Accidents attorney is ready to fight for you. Book a free consultation with us or reach out to us by placing a call to (805) 542-9900 to discuss your case.