Fighting For Bicycle Accident Victims For Over 2 Decades
We pay for ALL up-front expenses.
We don't get paid unless you do.
Calls, consultations, & questions are
always welcomed by our attorneys.
We will handle the stress of dealing with
insurance companies for you.
Selected as a member of the
Multi-million Dollar Advocates Forum.
San Luis Obispo Bicycle Accident Attorney
EXPERIENCED BICYCLE ACCIDENT LAWYERS SERVING SAN LUIS OBISPO, CA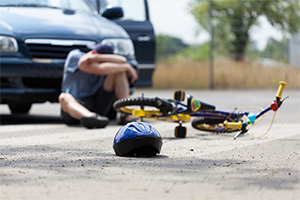 Despite the efforts of the San Luis Obispo Police Department and the new OTS public awareness campaign, "Go Safely, California", bicycle accidents continue to be on the rise. In fact, all over California, bicycle accidents are occurring at the highest rate ever in 25 years. KSBY TV also reports that bicycle accidents in this city are continually on the increase. Our San Luis Obispo bicycle accident attorney is well aware of this and ready to help those experiencing injuries from these accidents.
The statistics go to show one thing: bicycle accidents happen too frequently for comfort and, with the minimal protection available, the chances of serious injuries, if you're on the receiving end, are way too high.
Sadly, not all motorists understand the danger of bicycle accidents. Many still fail to pay attention to cyclists on the road and some even actively try to "get in their face". If you were injured in circumstances where the other driver failed to respect your rights to the road, you deserve justice and adequate compensation.
No matter how your bicycle accident happened, you may be entitled to full and fair compensation for your injury. Whether you were doored, t-boned in a car accident, rear-ended, or thrown off your bike by whatever means, the attorneys at Roberts & Spiegel Injury Lawyers have the experience to help.
Recovering Compensation in a Bicycle Accident
As a cyclist, you have rights and duties - the same as a motorist and other road users. When you or your loved one gets involved in a bicycle accident in San Luis Obispo, you can pursue a claim for financial compensation.
However, the journey to recovering compensation is often long and tricky. You will require the services of an experienced San Luis Obispo personal injury attorney who will:
Help you determine what insurance company should pay your medical bills.
Make sure you get your insurance on time.
Resolve liability disputes with or without filing a lawsuit.
Negotiate on your behalf for maximum compensation.
Prove liability and damages if litigation is required.
To recover monetary compensation, you will first have to prove that your injuries were caused by the action/negligence of another party. As expected, insurance companies will try to disprove your claim and seek to minimize their exposure as much as possible, even if this means you get nothing.
This is why it is always best to hire an experienced San Luis Obispo bicycle accident attorney who is ready to roll up their sleeves and fight for your rights. If you or a loved one gets injured in a bicycle accident, a skilled San Luis Obispo attorney can help you get financial compensation for your injuries.
Our personal injury attorneys are well experienced in bicycle accident cases and can help you better understand your legal rights. If you or a loved one gets injured in a bicycle accident in San Luis Obispo and environs, contact Roberts & Spiegel at (805) 542-9900 for a no-obligation review of your case.
Bicycle Accident Compensation in San Luis Obispo
In San Luis Obispo and California, an injured bicyclist is entitled to a number of heads of compensation after an accident. Depending on the circumstances of your case, you may recover money for:
Medical bills
Future medical treatment and rehabilitation
Pain and suffering
Past or future wage loss
Loss of future earnings
Property damage, and so much more.
The very important thing is for you to get in touch with an experienced attorney in San Luis Obispo immediately after your bicycle accident. This will no doubt ensure that your lawyer begins to preserve and gather the evidence needed to get you the compensation you deserve.
San Luis Obispo Bicycle Accident Lawyer
Our attorneys at Roberts & Spiegel Injury Law have successfully represented and recovered compensation for hundreds of injured persons in San Luis Obispo for bicycle accidents. To learn more about how your San Luis Obispo bike accident and what your rights may be, contact us here or call (805) 542-9900 for a free case evaluation.
Request Your Free Consultation Now
Fill out the form below and we will respond immediately to help you with your questions.
Speak to our Experienced San Luis Obispo Bicycle Accident Lawyer
Experiencing a bicycle accident can be detrimental. More often than not, these Insurance agents and adjusters are looking to shortchange or cheat you out of fair compensation for obvious business reasons. Insist on speaking with a competent Local San Luis Obispo bicycle accident attorney before you sign any settlement offer.


We have experience with handling these offers and we can naturally estimate fair estimation after an evaluation of your claim. Our San Luis Obispo Bicycle Accidents attorney is ready to fight for you. Book a free consultation with us or reach out to us by placing a call to (805) 542-9900 to discuss your case.