Fighting For Premises Liability Victims For Over 2 Decades
We pay for ALL up-front expenses.
We don't get paid unless you do.
Calls, consultations, & questions are
always welcomed by our attorneys.
We will handle the stress of dealing with
insurance companies for you.
Selected as a member of the
Multi-million Dollar Advocates Forum.
San Luis Obispo Premises Liability Attorney
SKILLED PREMISES LIABILITY LAWYERS SERVING SAN LUIS OBISPO, CA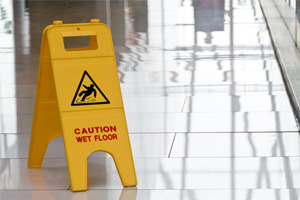 State and federal laws impose an obligation on property owners and operators. They are expected to keep their land, buildings, and premises safe, in order to prevent harm to visitors and other individuals. When they fail in this obligation, they may be held liable. This is called "premises liability". Our San Luis Obispo premises liability attorney knows what the law states and how to follow those regulations if you have questions about your premises liability case.
Premises liability is a legal concept in personal injury cases. What it means is that a property owner (commercial or private) may be held liable for any injury you sustain on their premises. This is especially so if the injury was as a result of some unsafe or defective condition on their property.
The dedicated attorneys at Roberts & Spiegel Injury Law can help you claim the compensation you deserve by gathering witness statements, expert advice, and medical records to help prove your case. If you need a San Luis Obispo premises liability attorney, contact us today or call (805) 542-9900 to schedule you a free consultation.
Common Premises Liability Cases
Premises liability involves a wide range of accidents and unlawful events. If you or your loved one has suffered an injury on another person's property, it is important that you find an attorney skilled in that area. Premises liability cases cover:
Slip & Falls or Trip & Falls
Swimming Pool Accidents
Workplace Accidents
Negligent or Inadequate Security
Playground Accidents
Recovering Compensation in a Premises Liability Case
If you suffer an injury on someone else's property, you may have a claim against the property owner. The law is that property owners and tenants may be held liable for accidents that could have been prevented on their property.
The duty of care to persons can be classified into 3 major parts. These categories will help establish the extent of liability of a property owner and whether an injured person will be entitled to compensation:
Duty of care to Invitees: An invitee is on the property at the express invitation of the property owner. This makes the property owner responsible for all injuries they suffer due to hazardous conditions on the property.
Duty of care to Licensees: Licensees are given permission to enter the property, within certain bounds. If they are injured within those bounds, they may recover compensation.
Duty of care to Trespassers: Although trespassers enter property without invitation or license, they may still claim compensation in certain cases. You should speak to an attorney immediately if this applies to you.
If you were injured in an unsafe property, you may be able to hold the owner financially responsible in a premises liability lawsuit. The monetary compensations our San Obispo premises liability lawyers can get for you include:
Medical expenses
Loss of Income
Pain and Suffering
Disability
Disfigurement
Mental Anguish
Loss of consortium
Injury to Children in San Luis Obispo Premises Liability cases
Generally, children are exempted from the trespasser rule and are protected by the attractive nuisance doctrine. The doctrine states that a premises owner may be held liable for injuries to children trespassing on the land if the injury is caused by an object that is likely to attract children.
By law, property owners are expected to take precautions against causing injury to children. These precautions may include installing perimeter fences around pools, erecting gates, or fences in hazardous premises, among others.
If your child suffers an injury on another person's property, it doesn't matter that your child was there without an invitation. Contact a San Luis Obispo personal injury lawyers, or call (805) 542-9900 to claim the compensation that you and your child deserve.
Professional Experience From Roberts & Spiegel Injury Lawyers
When a guest on a property, you're entitled to a certain amount of protection under the law and should not have been injured on another's property. The property owner should be able to guarantee your safety, and should even be able to guarantee the safety of a trespasser. If you have been injured on someone's property, do not hesitate to contact our San Luis Obispo premises liability attorney today.
Request Your Free Consultation Now
Fill out the form below and we will respond immediately to help you with your questions.
Speak to our Experienced San Luis Obispo Premises Liability Attorney
Have you or a loved one been injured or involved in a car accident? More often than not, these Insurance agents and adjusters are looking to shortchange or cheat you out of fair compensation for obvious business reasons. Insist on speaking with a competent Local San Luis Obispo premises liability attorney before you sign any settlement offer.


We have experience with handling these offers and we can naturally estimate fair estimation after an evaluation of your claim. Our San Luis Obispo Premises Liability Accidents attorney is ready to fight for you. Book a free consultation with us or reach out to us by placing a call to (805) 542-9900 to discuss your case.