San Luis Obispo Insurance Dispute Attorneys
SKILLED INSURANCE DISPUTES LAWYERS SERVING SAN LUIS OBISPO, CA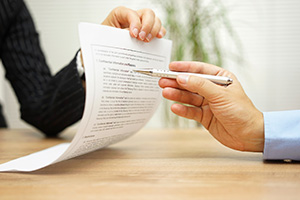 Insurance companies typically spend billions of dollars on marketing ads alone. The purpose of all this spending is usually to attract prospects who will buy insurance policies, usually for substantial premiums. There's barely any friction at this point until collection time. Our San Luis Obispo Insurance Dispute Attorneys have seen when the insurance companies wrongfully delay or deny a claim that is made.
When the time comes for you to collect on the insurance policy, things often become another proposition entirely. Sadly, many insurers forget that the purpose of buying an insurance policy is so you can access urgent assistance when circumstances demand it. Instead, they frustrate the efforts of the consumer to access their policy and watch out for their own bottom line instead of the welfare of their policyholder.
If you have been experiencing unnecessary delays, multiple interrogatories, or other actions that seem unnecessary, your employer may be trying to prevent you from collecting on your policy.
When a dispute arises between you and an insurance company over a claim or coverage, if you don't have an experienced San Luis Obispo insurance dispute lawyer, your claim may be denied.
You need an experienced insurance dispute attorney from Roberts & Spiegel to fight for you and recover your benefits. Contact or call (805) 542-9900 to get a review of your case.
Insurance Companies Are Obligated to Act in 'Good Faith'
The doctrine of utmost good faith applies completely to insurance companies. It is a doctrine that provides that parties to a contract must act must:
Act honestly,
Not mislead, or
Withhold critical information from one another.
In Insurance, the doctrine of good faith is considered a fundamental principle. This means that your insurance agency must reveal critical details about your insurance policy and must not try to act in bad faith to frustrate your recovery.
If an insurance company is found to act in bad faith, you may be entitled to recover damages against them.
Recovering Compensation in Insurance Dispute Cases
Unfortunately, too many insurance companies fail to act in good faith. Often, they prefer to challenge every claim a policyholder makes, forcing consumers to fight very hard to obtain just compensation on their insurance policy.
The purpose of their reluctance to pay is their preference to monitor their bottom line rather than the welfare of their policyholders. In fact, since the doctrine of good faith swings both ways, the insurance company may try to prove that you didn't act in good faith or that your claim is fraudulent.
Another trick they may throw at you is to try to get you to settle for a lesser fee than you are entitled to. Too many people don't know that they deserve more and will easily settle for less and not dispute the claim.
As a policyholder, you shouldn't fall for the tricks of insurance companies and settle for less. If an insurance company refuses to pay your claim, denies payment, or offers you an insufficient amount, you are within your rights to dispute it.
The right thing to do is to contact a skilled insurance dispute lawyer that will be able to go toe-to-toe with the insurance companies.
Rely on Our San Luis Obispo Insurance Dispute Lawyer
Our lawyers at Roberts & Spiegel have successfully represented the residents of San Luis Obispo across all areas of insurance bad faith and insurance denial cases. If you have been treated unfairly or denied your claim by an insurance company, you should contact our well-skilled San Luis Obispo insurance dispute attorneys or call us at (805) 542-9900 for a free review of your case.
Request Your Free Consultation Now
Fill out the form below and we will respond immediately to help you with your questions.
Speak to our Experienced San Luis Obispo Insurance Dispute Lawyer
Have you or a loved one been involved in an accident? Insist on speaking with a competent Local San Luis Obispo insurance dispute attorney before you sign any settlement offer.
We have experience with handling these offers and we can naturally estimate fair estimation after an evaluation of your claim. Our San Luis Obispo insurance dispute attorney is ready to fight for you. Book a free consultation with us or reach out to us by placing a call to (805) 542-9900 to discuss your case.