San Luis Obispo Construction Accident Lawyer
SKILLED CONSTRUCTION ACCIDENT LAWYERS SERVING SAN LUIS OBISPO, CA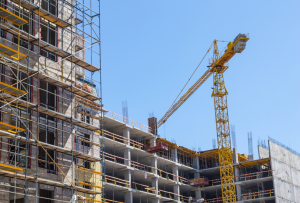 The construction industry is one of the most dangerous places to work in. The Occupational Safety & Health Administration (OSHA) reports that out of every 5,000 private-industry worker fatalities, 20 percent are in construction. The reality of this is that one out of every five worker deaths is construction-related.
Where they don't end in fatality, many of these accidents result in serious injury that will require extensive medical attention, leading to medical bills running into thousands, and sometimes, tens of thousands of dollars.
At Roberts & Spiegel Injury Law, we are experienced in all types of construction site accident cases and have helped hundreds of San Luis Obispo residents recover fair monetary compensation for their injuries. Our attorneys in San Luis Obispo will stand by you and ensure that your rights are not trampled on.
If you or a loved one becomes a victim of a construction site accident in San Luis Obispo, contact Roberts & Spiegel here or call (805) 542-9900 for a no-obligation review of your case.
Recovering Compensation in Construction Site Accidents
Construction site accidents are as dynamic as they come. Persons liable for your injury may include construction site owners, manufacturers of faulty equipment, general contractors, sub-contractors, or any other third party.
Construction site accidents may be of various types. The most common ones include:
Slip and fall accidents in construction sites.
Defective construction equipment.
Electrocution at construction sites.
Crane accidents
Burn injuries at construction sites.
Accidents leading to death.
Depending on your case - and with the help of an excellent San Luis Obispo construction accident lawyer - you may be able to institute a claim against more than one party.
Our brilliant attorneys at Roberts & Spiegel can chase multiple claims for you and get you multiple compensations.
Injuries sustained in construction sites can lead to severe physical, financial, and psychological pain for victims and their families. Workers' compensation benefits can only go a little way in assuaging your loss. By filing a lawsuit against a negligent party, an attorney may be able to help an injured employee recover:
Loss of wages;
Medical expenses;
Ongoing living expenses;
Pain and suffering;
Loss of consortium for widows or widowers.
In these cases, time is often of the essence. This is because state law usually requires that claimants in personal injury cases file their claim within 2 years of the date the event occurred. Failing to file within this period may prevent you from recovering compensation and will bar your claim.
Reaching out to a skilled San Luis Obispo construction accident attorney will help you preserve your claim and improve your chances of recovering the compensation you deserve.
Contact a San Luis Obispo Construction Accident Attorney Today
If you or a loved one was injured or killed in a construction site accident in San Luis Obispo, you might be entitled to financial compensation for your injuries.
These cases are often complex and require attorneys that are experienced in construction accident claims. By their nature, they often require a thorough investigation/scrutiny of the construction site, building documents, witness statements, and parties related to the incident.
At Roberts & Spiegel, you can count on a San Luis Obispo construction accident lawyer who will put their expertise to work in reviewing your case and ensuring that you obtain the compensation you deserve. Contact us today here or call (805) 542-9900 to speak with us.
Request Your Free Consultation Now
Fill out the form below and we will respond immediately to help you with your questions.
Speak to our Experienced San Luis Obispo Construction Accident Lawyer
The Insurance agents and adjusters are looking to shortchange or cheat you out of fair compensation for obvious business reasons. Insist on speaking with a competent Local San Luis Obispo construction accident attorney before you sign any settlement offer.

We have experience with handling these offers and we can naturally estimate fair estimation after an evaluation of your claim. Our San Luis Obispo Construction Accidents attorney is ready to fight for you. Book a free consultation with us or reach out to us by placing a call to (805) 542-9900 to discuss your case.