We pay for ALL up-front expenses.
We don't get paid unless you do.
Calls, consultations, & questions are
always welcomed by our attorneys.
We will handle the stress of dealing with
insurance companies for you.
Selected as a member of the
Multi-million Dollar Advocates Forum.
San Luis Obispo Truck Accident Lawyer
SKILLED TRUCK ACCIDENT LAWYERS SERVING SAN LUIS OBISPO, CA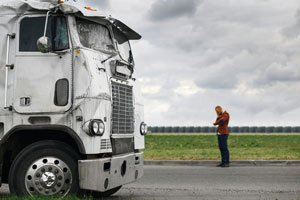 Today, most of our modern-day commerce is moved by the trucking industry, with approximately 11.84 billion tons of freight transported by trucks in the United States in 2019 alone. Unfortunately, that industry has seen its share of issues over the years, which has created the need for extensive regulation, such as how much time truckers can actively drive. Still, with these added regulations and safety protocols, trucking accidents are on the increase. Contacting a San Luis Obispo Truck Accident Lawyer might be your best option.
When You Have Been Injured in a Trucking Accident
After a truck accident injury, you may quickly find out how complex an injury claim can be. There are many moving parts in a truck accident and many points of liability.
When you have been injured in any motor vehicle accident, you have the right to hold the responsible party liable for your medical expenses, your damaged vehicle, your lost wages, and your pain and suffering. But in order to do that, you need to prove negligence and liability, and that can be complicated in a truck accident.
After a truck accident injury, having the skill and determination of an experienced San Luis Obispo truck accident lawyer on your side can be critical to your success in an injury claim. Let the experienced injury lawyers at Roberts & Spiegel Injury Lawyers help you recover the compensation you deserve.
How the Industry Tries to Cut Down on Accidents
Because of the incredible dangers of a truck accident and the potential for liability, the trucking industry is highly regulated by the federal government.
Drivers and companies must follow rules set out by the Federal Motor Carrier Safety Administration and adhere to strict hours of service regulations. The hours that a truck driver can actively drive and how much they must rest between driving sessions must be carefully noted and logged. Speeding and cargo limits are also strictly regulated.
And yet, a significant percentage of trucking accidents come down to sheer driver error, despite all the regulations. Our San Luis Obispo Truck Accident Lawyers have seen how driver error creates a devastating scenario for those who happen to be in the truck's path.
The Trucker's Dilemma
Unfortunately, despite industry safety measures, truck drivers still find themselves under unreasonable timing constraints and deadlines. This can lead to a driver manipulating log books to get around regulations and putting in more time behind the wheel, often resulting in drowsy driving.
Some drive with loads that are too heavy or don't take crucial downtime to maintain their trucks properly. Drug and alcohol impairment is also a serious issue in the trucking industry. When drivers feel pressured to meet unreasonable schedules, accidents happen, and innocent people get harmed.
Who is Liable in a Truck Accident in San Luis Obispo?
When any kind of accident such as car accidents, motorcycle accidents, or others result in injuries, liability must be established. But this is when it becomes complicated in a truck accident. Multiple parties can share liability in trucking accidents, including
The truck driver
The carrier
The company leasing the truck or trailer
The owner of the cargo
The manufacturer of the truck
The party that maintained the truck
In addition, some freight lines and their insurance companies will use every tactic possible to deny liability when looking at the potential for a large lawsuit. This is when it is critical to have an experienced San Luis Obispo truck accident lawyer fighting on your behalf.
Getting Experienced Legal Assistance From Our San Luis Obispo Truck Accident Lawyer
When you have been involved in a truck accident, an independent investigation should be done to ensure that the appropriate party is found liable for the accident. At Roberts and Spiegel Injury Lawyers, our skilled team of San Luis Obispo truck accident lawyers put our decades of experience to work for you to ensure that the right party or multiple parties are held responsible for your injuries. If you or a loved one has been injured in a truck accident in Fresno, Santa Maria, San Luis Obispo, or other surrounding communities, contact us for a complimentary case review.
Request Your Free Consultation Now
Fill out the form below and we will respond immediately to help you with your questions.
Speak to our Experienced San Luis Obispo Truck Accident Lawyer
Have you or a loved one been injured or involved in a truck accident? More often than not, these Insurance agents and adjusters are looking to shortchange or cheat you out of fair compensation for obvious business reasons. Insist on speaking with a competent local San Luis Obispo truck accident attorney before you sign any settlement offer.
We have experience with handling these offers and we can naturally estimate fair estimation after an evaluation of your claim. Our San Luis Obispo truck accident lawyer is ready to fight for you. Book a free consultation with us or reach out to us by placing a call to (805) 542-9900 to discuss your case.