San Luis Obispo Pedestrian Accident Attorney
EXPERIENCED PEDESTRIAN ACCIDENT LAWYERS SERVING SAN LUIS OBISPO, CA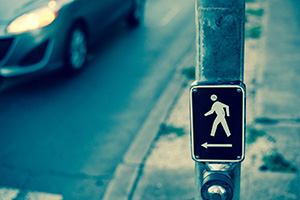 When auto accidents occur, they may also involve pedestrians. Contrary to what some may believe, the pedestrian is not 'collateral damage' to the 'big picture'. Not only does the pedestrian have clear rights under the law, but an injured pedestrian may also file a claim for compensation against the liable party. Our San Luis Obispo pedestrian accident attorney can walk you through the claims process.
Pedestrian accidents often occur because a driver was negligent or failed to respect the rights of the pedestrian. These accidents may also occur when one vehicle stops for a pedestrian at a crosswalk and another vehicle tries to go around the stopped vehicle.
According to the California Department of Transportation, pedestrian accidents occur more commonly at marked crosswalks than unmarked crosswalks. While pedestrians expect a motorist to stop for them at a crosswalk, drivers often fail to stop, thereby causing serious accidents. Speeding, running red lights, or driving on the shoulder of the road may also injure a pedestrian in an accident.
If you were injured as a pedestrian, you can file a personal injury lawsuit against the liable party. If the accident results in the sad demise of a loved one, the family members of the deceased may also file a wrongful death suit.
Our passionate and excellent San Luis Obispo pedestrian accident attorney at Roberts & Spiegel Injury Law is well-experienced in this area and will ensure that you get all the compensation you deserve. Contact us here or call (805) 542-9900 for a free review of your case.
Negligence in Pedestrian Accidents
The injuries that pedestrians sustain are usually caused by the reckless acts of a driver. A driver will be considered negligent when the rules and regulations of driving have been disregarded, resulting in a car accident. Instances of negligent driving may also involve:
Driving under the influence of drugs or alcohol;
Texting or operating an electronic device while driving;
Smoking or eating while driving;
Driving while drowsy;
Disregard for traffic lights and signs.
No matter how your accident occurred, as a pedestrian, you may be able to file a claim for compensation against the responsible person(s).
Recovering Compensation in a Pedestrian Accident
Your injuries as a pedestrian are not minor or collateral. When you get injured as a pedestrian in San Luis Obispo, you may be entitled to compensation for:
Pain and suffering,
Medical costs,
Lost income,
Emotional distress damages, among others.
To claim your compensation, you must be able to establish the driver's negligence. Importantly, you should also document all your economic and non-economic losses to show your claim for compensation.
As is usually common in these cases, the insurance companies will try to argue that the driver cannot be held liable for your injury. They may also try to establish that the injury was, in fact, your own fault. To get the compensation that is rightfully yours in a pedestrian accident, you will require the services of an attorney that knows all the tricks of insurance companies - and is able to fend them off for you.
Contact a San Luis Obispo Pedestrian Accident Attorney
After getting injured in a pedestrian accident in San Luis Obispo, you would need an excellent pedestrian accident lawyer that can help you recover full compensations for your injury or loss. The residents of San Luis Obispo have continuously relied on the attorneys at Roberts & Spiegel for their personal injury cases. Get in touch with us online here or call us at (805) 542-9900 for a review of your case.
Request Your Free Consultation Now
Fill out the form below and we will respond immediately to help you with your questions.
Speak to our Experienced San Luis Obispo Pedestrian Accident Lawyer
All too often, these Insurance agents and adjusters are looking to shortchange or cheat you out of fair compensation for obvious business reasons. Insist on speaking with a competent Local San Luis Obispo pedestrian accident attorney before you sign any settlement offer.
Our law firm has experience with handling these offers and we can naturally estimate fair estimation after an evaluation of your claim. Our San Luis Obispo Pedestrian Accidents attorney is ready to fight for you. Book a free consultation with us or reach out to us by placing a call to (805) 542-9900 to discuss your case.