Fresno Construction Accident Attorney
SKILLED CONSTRUCTION ACCIDENT LAWYERS SERVING FRESNO, CA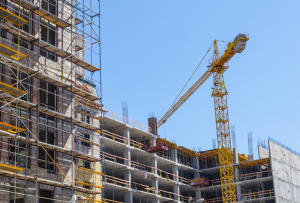 Construction sites are full of hazards. The construction industry as a whole is a very dangerous industry. While risk cannot be totally ruled out, many of these accidents are avoidable. Fresno has the Capital Improvement Project set up to improve sidewalks, streets, streetlights, etc, but that doesn't mean accident still can't happen. You can read more information on the City of Fresno site or contact a Fresno construction accident attorney.
Many construction site accidents occur due to negligence and carelessness of parties with the responsibility of ensuring workplace safety.
If you were injured in a construction site accident, the Fresno construction site accident attorneys at Roberts & Spiegel Injury Law can help you recover compensation. Call to schedule a free case review with one of our experienced attorneys today.
Liability for Construction Site Accidents
The first step to successfully obtaining compensation is to identify and prove the party at fault. If you have been involved in a construction site accident or others such as a car accident or wrongful death, chances are that there may be one than one party liable. This is because there are many parties involved in the construction owing you certain responsibilities at law.
When a party owes you a legal duty or responsibility, failure to fulfill this legal duty makes them liable to compensate you for harm caused to you. Under the OSHA guidelines, a degree of responsibility has been placed on parties involved in the construction sites. This makes them potentially liable for construction site accidents. These parties include;
Site Owners: There is a shared duty on the owners of a site where construction work is ongoing to ensure a reasonably safe working environment. They must disclose certain information on potential hazards and precautions.
Contractors: General Contractors or sub-contractors bear the highest level of responsibility to site workers and visitors to ensure a safe working environment. They are required under law and OSHA guidelines

to provide sufficient warnings of potential hazards on the site. Failure to comply with these legal requirements may render them liable for any accident that occurs on-site and injuries resulting therefrom.

Manufacturers: An equipment manufacturer may be held liable where the accident is caused by defective equipment on the construction site.
Recovering Damages for your Construction Site Accidents
Construction site accidents often result in serious injuries causing disfigurements, amputation, and even death. Many victims have lost their ability to perform future work and are at risk of developing other ailments. Aside from the physical injuries, victims and their families also suffer emotional trauma and financial hardship.
If you have suffered injuries from construction site accidents as a worker, there are two options available to you. You may lay claim to worker's compensation or file a personal injury lawsuit. If you work for the County of Fresno, you can visit their website for more information on the worker's comp. Proper identification of who to proceed with a claim against is crucial to the recovery of fair compensation in a car accident case.
Worker's compensation insurance may not be sufficient to cover all these losses. You may have to resort to a personal injury claim to secure damages. The court can award economic damages for monetary losses like medical bills, lost wages, etc. You can also obtain non-economic damages for non-monetary losses like loss of quality of life, disfigurement, and disability.
Sometimes pedestrians and children also get hurt on construction sites due to the failure of contractors to provide sufficient warning in accordance with the law. For non-workers, you can claim compensation by filing a personal injury lawsuit.
How We Can Help You
Our Fresno personal injury attorneys have considerable experience and can help you decide on the best case strategy to adopt. When there is an urgent need for one, we may have to speak to experts on your behalf to effectively analyze the conditions of your accident and the degree of responsibility of parties.
We also handle important negotiations for our clients. This includes out-of-court settlements with insurance companies and at-fault defendants. Be rest assured that we have your best interest at heart and we'll pursue just that in those negotiations. Do not be quick to sign any offer placed before you without first speaking to an experienced local attorney.
Let Our Experienced Fresno Construction Sites Accident Attorney Fight For You
Have you or your loved one been injured in a construction site accident? Our Fresno Construction sites accident attorney will fight for you. Do not let time run out on your claim. Contact us now for a free initial consultation or call us at (559) 201-0911.
Request Your Free Consultation Now
Fill out the form below and we will respond immediately to help you with your questions.
Speak to our Experienced Fresno Construction Accident Lawyer
Have you or a loved one been injured or involved in a construction accident? More often than not, these Insurance agents and adjusters are looking to shortchange or cheat you out of fair compensation for obvious business reasons. Insist on speaking with a competent Local Fresno construction accident attorney before you sign any settlement offer.
We have experience with handling these offers and we can naturally estimate fair estimation after an evaluation of your claim. Our Fresno construction Accidents attorney is ready to fight for you. Book a free consultation with us or reach out to us by placing a call to (559) 201-0911 to discuss your case.