Fighting For Motorcycle Accident Victims For 2 Decades
We pay for ALL up-front expenses.
We don't get paid unless you do.
Calls, consultations, & questions are
always welcomed by our attorneys.
We will handle the stress of dealing with
insurance companies for you.
Selected as a member of the
Multi-million Dollar Advocates Forum.
Fresno Motorcycle Accident Lawyer
SKILLED MOTORCYCLE ACCIDENT LAWYERS SERVING FRESNO, CA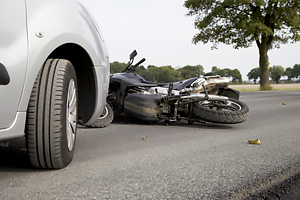 As of 2018, the OTS website states that motorcycle accidents decreased by 15%. As the number of motorcycles, mopeds, and scooter riders on roads across California increases every day, so do the number of accidents involving this at-risk group. Due to the minimal protection that motorcycles offer, motorcycle accidents are usually more dangerous or catastrophic than car accidents and can sometimes lead to riders being killed. Get in touch with our Fresno motorcycle accident lawyer by calling (559) 201-0911.
Usually, all a cyclist has is just a safety helmet and leather apparel to protect the body. As a result, when a road accident occurs, the motorcyclist is no match for cars, trucks, and other automobiles.
If you were injured in a motorcycle accident because the other driver was negligent or failed to pay attention to the road, you are entitled to pursue compensation. Holding negligent drivers responsible while also ensuring that you get compensated for your injuries means you would need the services of our Fresno motorcycle accident attorneys.
The residents of Fresno have, for years, relied on Roberts & Spiegel and his team to get them the justice they need. Our firm can also help you recover maximum compensation for your injuries by standing up to big insurance companies.
Common Motorcycle Accident Injuries
Riding a motorcycle can be thrilling, but it also comes with some risks. Motorcycle accidents can result in severe and sometimes life-threatening injuries. Here are some of the most common motorcycle injuries to be aware of:
Fractures
Neck injuries
Internal Injuries
Preventing Motorcycle Accidents and Injuries
Some motorcycle accidents are inevitable, but you can take specific steps to protect yourself.
Wear Protective Gear: A helmet, gloves, jacket, and other forms of protective clothing can help to shield you from harm and keep you safe in potentially hazardous situations.
Take a Motorcycle Safety Course: Taking a motorcycle safety course can equip you with the knowledge and skills needed to reduce your risk of accidents or injuries while enjoying the roads. A safety course can also teach you how to handle various situations on the road, such as reacting in times of danger or maintaining control in difficult weather conditions.
Practice Safe Riding Techniques: Always use proper riding techniques, such as maintaining a safe following distance, avoiding sudden stops or turns, and avoiding distractions while riding.
Regularly Maintain Your Bike: Regular maintenance can help keep your motorcycle in good working condition and reduce the risk of accidents caused by mechanical issues.
What To Do After a Motorcycle Accident
If you are involved in a motorcycle accident, it is essential to take the following steps:
Check for injuries
After being involved in a motorcycle accident, it's essential to check for injuries before doing anything else. Call for medical assistance if necessary.
Move to a safe location
If the accident occurs in a busy traffic area, try to move your motorcycle to a safe place if possible. If someone seems severely injured, make sure they are safe, but try not to move them until medical personnel arrive.
Call the police
Call the police and file a report, even if the accident is minor. The police will create an official report that can be used later for insurance purposes and legal proceedings.
Exchange information
Exchange information with the other driver, including name, address, phone number, and insurance information. Make sure to get the other vehicle's make, model, and license plate number.
Take photos
Take photos of the damage to your motorcycle and any other vehicles involved in the accident, if possible. This can be useful in supporting your insurance claim. Additionally, take pictures of any visible injuries you sustained.
Consult an attorney
After you're out of harm's way, you should speak with a personal injury lawyer as soon as possible. They can help you determine your next steps and ensure you get the compensation you're entitled to.
Common Causes of Motorcycle Accidents
Although it can be exciting and fun, riding a motorcycle carries significant risks. Motorcycle collisions can occur in an instant and can cause severe injuries or even death. It's crucial to be aware of the common causes of motorcycle accidents so you can keep yourself and others safe when driving.
Vehicle Blind Spots
Vehicle blind spots can make it difficult or impossible to spot a motorcycle when changing lanes or making turns, which can lead to dangerous and preventable accidents.
Reckless or Distracted Driving
Another common factor in motorcycle collisions is careless or inattentive driving. Motorcycles on the road can be easily missed by drivers whose attention is distracted by their phones, radios, or other interruptions.
Improper Lane Change
Improper lane changes are another common cause of motorcycle accidents. This can occur when drivers change lanes without signaling or don't check their blind spots before changing lanes.
Inclement Weather
Inclement weather like fog, rain and snow can make it hard for drivers to see motorcycles on the road. This can decrease reaction time and increase the chances of a motorcycle accident. Bad weather can also make it more difficult for riders to control their motorcycle, so they should ride with extreme caution in these situations.
Road Hazards
Motorcycle riders need to be aware of potential road hazards, such as potholes, gravel, and wet pavement. Adjusting your riding style accordingly can help avoid accidents and reduce the risk of injury.
Negligence in a Motorcycle Accident in Fresno
Drivers of cars, trucks, and other passenger vehicles are usually quick to point accusing fingers at motorcyclists after a motorcycle crash. A common deflection is to say that they didn't see the cyclist coming.
The primary thing to note as a rider of a motorcycle, moped, or scooter, is that you are equally entitled to the use of the road. Also, other road users owe you some duty of care, the breach of which may mean they'll be held negligent and responsible for your injuries.
To prove that a driver or person was negligent in the motorcycle accident, it must be established that:
The defendant owed a duty of care to you;
The defendant breached that duty of care;
The breach of care was the direct cause of the injury you suffered or damage to your motorcycle.
As such, if you get involved in an accident, you have the right to hold any negligent party accountable for any injuries suffered or damage to your motorcycle. Not only can you file a claim against the at-fault driver, but you may also file the same against the employer of the negligent driver and their insurance company.
Recovering Compensation in a Motorcycle Accident
The SGVT writes that motorcycle fatalities are AT LEAST 28 times higher than accidents involving automobiles. If you sustain an injury or damage to your motorcycle in an accident, you could file a lawsuit to recover compensation. The lawsuit will be against all the negligent or responsible parties in your motorcycle accident. The damages you may be entitled to may include both economic and non-economic damages.
The way motorcycle accidents are, you can file your claim against multiple parties. These parties may include:
The driver of the vehicle that hit you. (Calling our Fresno car accident attorney would be best)
The employer of the driver that hit you (if the driver was an employee).
The insurance company of the negligent party.
The government or contractors responsible for the road design or defects that contributed to your accident, or
The manufacturer or distributor of a defective motorcycle or automobile, as the case may be.
When an injury is serious or a death occurs, the ideal course of action is to find an experienced Fresno personal injury lawyer to start the process of recovering your financial benefits for you.
Contact a Fresno Motorcycle Accident Lawyer Today
Motorcycle injury cases can be complicated and hard to manage without legal help. If you or a loved one has been in a motorcycle wreck, it's crucial that you have the best legal representation possible - especially one that is experienced with motorcycle accident cases.
Our legal team at Roberts & Spiegel Injury Law in Fresno has become notorious in Fresno for representing motorcycle accident cases. Other years, we have become the go-to lawyers for personal injury cases. Our attorneys are ready to help you through every aspect of your claim and make sure that you get maximum compensation for any damage to your motorcycle and for any injuries you may have suffered.
If you or your loved one gets involved in a motorcycle, moped, or scooter accident, you should contact our Fresno motorcycle accident attorney online here or call (559) 201-0911 for a free evaluation of your case.
Request Your Free Consultation Now
Fill out the form below and we will respond immediately to help you with your questions.
Speak to our Experienced Fresno Motorcycle Accident Lawyer
Have you or a loved one been injured or involved in a motorcycle accident? More often than not, these Insurance agents and adjusters are looking to shortchange or cheat you out of fair compensation for obvious business reasons. Insist on speaking with a competent local Fresno motorcycle accident attorney before you sign any settlement offer.