Fresno Insurance Dispute Attorney
EXPERIENCED INSURANCE DISPUTE LAWYERS SERVING FRESNO, CA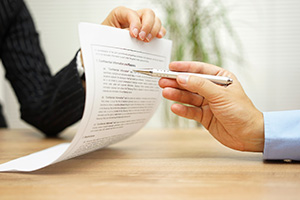 Insurance disputes start out as a paradox. When you buy the policy, you hope you never need to use it. At the same time, the insurance company hopes you never claim on your policy. But what happens when an unforeseen incident occurs and you finally need the insurance company to cover your loss? You need to hire a Fresno insurance dispute attorney.
The fact is that there are often so many grey areas and technicalities involved in insurance policies. Generally, insurance can include a wide range of exemptions and 'terms' that will open up dozens of potential issues and risks. When you finally need your coverage and you need it immediately, you may discover that claiming on your insurance company becomes another proposition entirely.
If you have been facing difficulties with claiming on your insurance policy, your efforts may have been frustrated by the insurance company. Under California law, it is illegal for an insurance company to intentionally put obstacles in the way of a policyholder claiming on their policy. The Fresno court's website has more information on county-specific guidelines and laws.
Our Fresno personal injury lawyers at Roberts & Spiegel Injury Law can help you hold your employer to account and recover the settlement you require.
Bad Faith in Insurance Claims
Insurance can be quite complicated and this can result in many gray areas within an insurance policy that insurance companies can try to explore to deny your claim. Most of these will result in disputes that may take months or even years to resolve. A Fresno car accident lawyer can also help assist you if you have questions.
Despite the existence of State laws and regulatory bodies that closely monitor the insurance industry, insurers and their loss adjusters routinely leverage on these gray areas to deny or minimize legitimate claims.
In some instances, it may be well within the rights of insurance companies to deny a claim. This may be because you're not covered under the agreed contract or terms.
But most of the time, insurance companies don't always rely on actual terms and conditions to deny coverage. A couple of tricks may include:
Hanging you out to dry on petty technicalities;
Trying to avoid paying policy limits;
Inducing you to give statements that can be used against your claim; and,
Giving you a run-around in the hope that the whole process makes you abandon your claim.
This common act of deploying means to deny you your legitimate claim is called 'Bad faith' and it is seriously frowned on in the insurance industry.
If you don't dispute the claim of your insurance companies, good for them. If you have no skilled Fresno insurance dispute lawyer to have your back, bad for you. There have been cases in Fresno where the sheriff's office has violated laws. You need a good law firm in case this happens.
At Roberts & Spiegel Injury Law, we have handled disputed insurance claims for individuals, small businesses, and large corporations. We are familiar with all the tricks insurance companies may try to pull - and we know how to get you your full payment.
Recovering Your Full Benefits in an Insurance Dispute Case.
The laws regulating insurance policies dictate that all parties to the contract must act in good faith.
When you're denied your insurance claim or your policy is handled in 'bad faith', you have the right to seek legal redress. An insurance company found guilty of bad faith operations may be held liable for additional damages greater than the limits of your insured policy.
If your insurer is short-changing you and delaying payment without good reason or are refusing to pay without justification, your best course of action would be to contact an attorney that will pursue your rights for you. The payments you'll get from this will include both compensatory and punitive damages.
Choose our Fresno Insurance Dispute Lawyers to Represent your case
At Roberts & Spiegel, we are quite familiar with the insurance industry and have successfully represented the residents of Fresno and its environs in their insurance dispute cases.
Don't let your insurance company take advantage of you. The California Health Care Almanac has tons of useful and important information, regarding insurance disputes. In addition, if you're having issues getting your insurance company to pay upon your policy, then you should speak with our Fresno insurance dispute lawyer as soon as you can. Contact us here or call us now at (559) 201-0911 for a free case evaluation of your case.
Request Your Free Consultation Now
Fill out the form below and we will respond immediately to help you with your questions.
Speak to our Experienced Fresno Insurance Dispute Lawyer
Have you or a loved one been injured or involved in an insurance dispute? More often than not, these Insurance agents and adjusters are looking to shortchange or cheat you out of fair compensation for obvious business reasons. Insist on speaking with a competent Local Fresno Insurance Dispute attorney before you sign any settlement offer.
We have experience with handling these offers and we can naturally estimate fair estimation after an evaluation of your claim. Our Fresno Insurance Dispute attorney is ready to fight for you. Book a free consultation with us or reach out to us by placing a call to (559) 201-0911 to discuss your case.