Fighting For Bicycle Accident Victims For Over 2 Decades
Santa Maria Bicycle Accident Lawyer
EXPERIENCED BICYCLE ACCIDENT LAWYERS SERVING SANTA MARIA, CA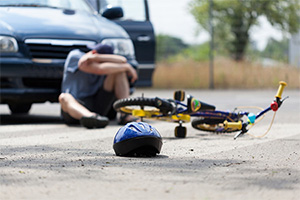 In the last three years alone, the Santa Maria Police Department has investigated more than 228 injury collisions involving bicyclists with six (6) of the accidents resulting in death. This high rate of bicycle accidents is not however something peculiar to Santa Maria. Generally, automobile drivers fail to exercise due precaution to avoid colliding with cyclists causing car accidents. When an accident occurs, contact our Santa Maria bicycle accident lawyer right away.
To be clear, bicyclists have an equal right to use public roads as motor vehicles. In the event of a bike accident, victims are equally entitled to seek compensation for their injuries or damage to the bicycle/property. The Santa Maria bicycle accident lawyers at Roberts & Spiegel Injury Law will ensure that your rights are not trampled on.
Who can be held liable in a bicycle accident?
Any or all the people that contributed to the bicycle accident can be held liable for your injury.
The driver or employer of the driver can be sued for a claim.
A government agency may be held accountable if the design or nature of the road caused the accident.
The manufacturers or sellers of the bicycle may also be held responsible if the accident occurred because of a malfunction in the bicycle.
The owner of a dog or animal may also be held accountable for negligence if the animal jumped into the road and caused the accident.
Recovering compensation in a bike accident
As a bicyclist involved in an accident, you may be able to recover compensations for your injury. For a start, automobile insurance also covers cycling accidents.
The insurance company of the driver at fault will compensate you for your injuries. Depending on the insurance policy, your insurance company may also cover some of the compensation you're entitled to receive. To recover compensation, you have to establish that the other party was negligent in their duty of care to you. You must also prove that the injury you suffered was because of their negligence.
California is a 'comparative fault' state. What it means is that even if you are partially at fault, you may still be able to recover compensation to the extent of the other party's fault. If after the bicycle accident, it was realized that you were 40% responsible for the accident, you're still entitled to be compensated. You will be compensated with 60% of the other party's negligence.
The damages you can recover include::
Economic damages: this entails medical bills, damaged property, and lost wages;
Non-economic damages: pain and suffering caused to you or loss to the quality of life; and
Punitive damages: this is usually awarded to victims of an accident by the court. It serves to punish the party found to be recklessly responsible for your injuries.
Wouldn't you rather contact a Santa Maria bicycle attorney today?
Every case is unique on its own. The compensation you get will depend on the nature of your case and how good your personal injury lawyer is. When you get involved in a bicycle accident, you have to get in touch with an experienced Santa Maria bicycle accident attorney as soon as you can. It's a 'rookie move' to communicate with the insurance company or lawyers of the other party without having a lawyer yourself so contact us right away.
Request Your Free Consultation Now
Fill out the form below and we will respond immediately to help you with your questions.
Speak to our Experienced Santa Maria Bicycle Accident Lawyer
Have you or a loved one been injured or involved in a bike accident? More often than not, these Insurance agents and adjusters are looking to shortchange or cheat you out of fair compensation for obvious business reasons. Insist on speaking with a competent Local Santa Maria bicycle accident attorney before you sign any settlement offer.
We have experience with handling these offers and we can naturally estimate fair estimation after an evaluation of your claim. Our Santa Maria bicycle accidents attorney is ready to fight for you. Book a free consultation with us or reach out to us by placing a call to (805) 863-9036 to discuss your case.