Santa Maria Dog Bite Injury Lawyer
EXPERIENCED DOG BITE LAWYERS SERVING SANTA MARIA, CA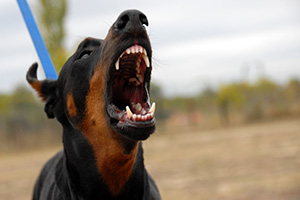 The California Department of Public Health has estimated that about five million persons in the U.S. are bitten by dogs each year. The Insurance Information Institute (III) also reports that almost a third of all homeowner's liability insurance claims are dog-bite issues. Our Santa Maria dog bite lawyer will help you understand how to take action when involved in a dog bite injury.
California appears to bite into a larger share of the statistics. Unfortunately, more dog bites occur in California than in any other state in the country. This is in spite of rules and regulations on pet keeping and leashes.
Liability for dog bites in California
The 'strict liability' statute is operational in California when it comes to dog attacks. According to the state's Civil Code Section 3342:
The owner of any dog is liable for the damages suffered by any person who is bitten by the dog while in a public place or lawfully in a private place, including the property of the owner of the dog, regardless of the former viciousness of the dog or the owner's knowledge of such viciousness.
What this means is that dog owners will be held liable for the actions of their pets, whether or not the pet has shown previous signs of aggression or violence. The rule above will however not be effective if:
The person bitten by the dog was a trespasser.
The dog was provoked into the attack.
The dog bite incident occurred during a military operation or when the dog was helping the police.
Compensation in a dog bite injury
Dog owners will be held financially liable for your injuries. Depending on the circumstance, they may also receive citations or other penalties that their negligence warrants. Generally, the homeowner's and renter's insurance policies will cover any dog bite liability.
Standard policies for homeowners will provide liability coverage within $100,000 and $300,000. If the claim exceeds the agreed limits, the dog owner may be held personally liable for the excess, including legal expenses.
If you get bitten by a dog, it is not advisable for you to cover the expenses on your own. The negligent dog owner should be held financially responsible for the injuries, damages and losses you suffer as a result of the incident. Hostile dogs can even cause slip and fall accidents, so contact us right away to know what to do.
As an injured victim, the compensation you're entitled to in a dog bite case can cover damages for:
Past and future medical treatment expenses,
Loss of past and future income and earning capacity,
Past and future pain and suffering or emotional distress, and
Other expenses caused by the dog bite or attack.
Getting in touch with a knowledgeable Santa Maria dog bite injury lawyer will help shed light on the options available to you.
Get in touch with a Santa Maria dog bite injury lawyer
If you or a loved one has been bitten or attacked by a dog in Santa Maria, do not hesitate to contact us at Roberts & Spiegel Injury Law. The Santa Maria personal injury attorneys are experienced and ready to defend you when dog owners have allowed their dogs to cause you or your loved one(s) harm.
The lawyers at Roberts & Spiegel have been dealing with dog bite injury cases for years and have successfully gotten our clients their due compensation. As a result of this, the people of Santa Maria have continually relied on us to fight for their rights and get them their entitlements.
You can get in touch with us at our office at 301 E Cook St., Ste A, Santa Maria, CA, 93454. You may also schedule an online consultation here or call us at (805) 863-9036 to speak with one of our attorneys.
Request Your Free Consultation Now
Fill out the form below and we will respond immediately to help you with your questions.
Speak to our Experienced Santa Maria Dog Bite Lawyer
Experienced a dog bite injury? More often than not, the Insurance agents and adjusters are looking to shortchange or cheat you out of fair compensation for obvious business reasons. Insist on speaking with a competent Local Santa Maria dog bite attorney before you sign any settlement offer.
We have experience with handling these offers and we can naturally estimate fair estimation after an evaluation of your claim. Our Santa Maria dog bite attorney is ready to fight for you. Book a free consultation with us or reach out to us by placing a call to (805) 863-9036 to discuss your case.