Santa Maria Motorcycle Accident Attorney
EXPERIENCED MOTORCYCLE ACCIDENT LAWYERS SERVING SANTA MARIA, CA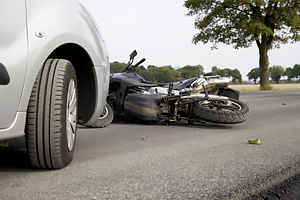 Motorcycle accidents are usually very awful and, in several cases, it can even lead to death. These accidents would of course interrupt the functions that you would normally carry out and result in productivity losses. If you have sustained injuries it may be time to reach out to our Santa Maria Motorcycle accident attorney. You have the legal right to be compensated.
There has increasingly been an alarming number of Santa Maria motorcycle accident fatalities over the past few years to the present day. Studies show that being in a motorcycle accident is 27 times more likely to result in death or serious injury. The reason for these sad stats is simple: motorcycles afford little to no protection for their riders, even if you have on helmets, chances are you'll still suffer a head injury.
Another reason for the statistics is that drivers can be a little careless around motorcycles. According to the National Safety Council, many drivers simply fail to anticipate the movement of motorcycles or notice them in the first place. You should understand that as a motorcyclist, you have the same right to use the road as every other vehicle.
If you have been involved in a Santa Maria motorcycle accident, contacting a Santa Maria motorcycle accident attorney is one of the first things you should do. You may be entitled to claim compensation, your attorney will explain all of the options available to you. With an attorney, you'll be able to ward off any insurance company that wants to keep you quiet.
Our Santa Maria motorcycle accident attorneys at Roberts & Spiegel Injury Law have a very impressive track record of handling motorcycle accident claims. They have extensive experience in dealing with insurance companies and are very familiar with the laws. We have helped many residents recover compensation and set their lives back on track.
If you have been injured in a Santa Maria motorcycle accident, contact us at Roberts & Spiegel Injury Law for swift and solid representation.
Compensation in a Santa Maria motorcycle accident
There are different factors that determine how much compensation an injured motorcyclist can get. Some of these factors include the severity of the injury, the nature and reason for the accident, how many parties were involved and whether the cyclist has suffered any permanent disability. Contacting a Santa Maria motorcycle accident lawyer is a priority because you should embark on your compensation recovery journey with a complete understanding of your options and rights.
Under California laws, every motorcycle accident is unique, and slightly different rules apply in each scenario. Our lawyers handle all the different kinds of motorcycle accidents and some of them include:
Accidents between motorcycles and other motorcycles
Accidents caused by poor road conditions
Motorcycle accidents caused by speeding
Motorcycle accidents resulting in a brain or spinal cord injury
DUI motorcycle accidents
Motorcycle crash from a car accident
Accidents between motorcycles and commercial vehicles
Accidents between motorcycles and pedestrians
Wrongful death

motorcycle accidents

Other motorcycle accidents
One of the first things we will help you figure out is deciding how and who to file a claim against. Mapping out our strategies and knowing which direction to go helps us to intensify our efforts and produce beneficial and positive outcomes.
What if you are partially to blame?
You can be partially to blame if for example, you were not wearing a helmet or if you unknowingly violated a traffic law. While this might hurt your case a little bit, it doesn't completely deter you from recovering at least some form of compensation. It is also very likely that you receive a much lesser percentage than you are bargaining for, depending on how much of the accident was your fault.
California operates a "comparative negligence" system. This means that an injured person will receive a reduction of damages equal to the percentage of fault that is theirs. For example, if you were found 10% responsible, you'd only get 90% of the compensation filed for.
With this, it is possible for you to be compensated even if you are partially to blame. You'll need to turn to your Santa Maria motorcycle accident lawyer for a full consult that highlights everything you need to about how your case should proceed.
Contact a qualified Santa Maria motorcycle accident attorney today
If you have been involved in a Santa Maria motorcycle accident, contact Roberts & Spiegel. We will help secure compensation and work towards a generally positive outcome. You can reach us at (805) 863-9036.
Request Your Free Consultation Now
Fill out the form below and we will respond immediately to help you with your questions.
Speak to our Experienced Santa Maria Motorcycle Accident Lawyer
More often than not, these Insurance agents and adjusters are looking to shortchange or cheat you out of fair compensation for obvious business reasons. Insist on speaking with a competent Local Santa Maria motorcycle accident attorney before you sign any settlement offer.
We have experience with handling these offers and we can naturally estimate fair estimation after an evaluation of your claim. Our Santa Maria motorcycle Accidents attorney is ready to fight for you. Book a free consultation with us or reach out to us by placing a call to (805) 863-9036 to discuss your case.