Santa Maria Insurance Disputes Lawyer
SKILLED INSURANCE DISPUTES LAWYERS SERVING SANTA MARIA, CA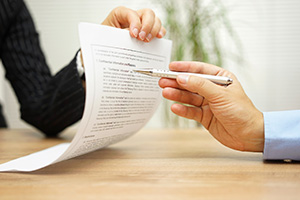 Disputes with insurance companies are always a thing of wonder. You buy and pay hard-earned money for insurance to protect yourself and your loved ones but when the time of need comes, your insurance company does not live up to their promises. If your insurance company delays or denies payment of valid claims, you may be a victim of "bad faith" and need the help of a Santa Maria insurance disputes lawyer.
When a policyholder who has paid insurance premiums submit a claim to their insurance company, the insurance company is expected to act in good faith and honor the validity of the claim. But sadly, it is not always the case, because many insurance companies do not do what is right.
Insurance disputes often arise after an insurance company delays or denies a valid claim, often without legitimate reasons or explanations. If you are a victim of delayed or denied insurance claims, don't just let it go. Contact a qualified Santa Maria insurance disputes attorney.
Our insurance disputes attorney at Roberts & Spiegel Injury Law are very knowledgeable on insurance disputes, they know how to best fight your cause and ensure that you are adequately compensated. We have helped many residents recover their benefits.
If you try to go up against an insurance company on your own, you may not get any positive results. Contact a Santa Maria insurance disputes lawyer today for thorough and efficient representation.
What is "bad faith" in the city of Santa Maria?
The term "bad faith" refers to when an insurance claim is wrongfully denied by an insurance company. the following acts can be considered be in bad faith of the insurance contract:
Failing to settle a claim when it is clear that it should be settled
Failing to make the payment of a claim that comes with a description of the coverage under which the payment is made.
Failing to attempt to settle a claim in good faith when the circumstances should have allowed for it.
Many other actions or failures to act may also be considered bad faith. Such as denying a claim without performing investigations, misinterpretation of facts, not responding promptly to communications and more.
Insurance companies must, as businesses, operate in good faith. This means honoring the agreements that they hold with you, the insured. This arrangement works both ways, however, very often, insurance companies try to prove that your claim is fraudulent in order to avoid paying you. Fighting these accusations without a Santa Maria insurance disputes lawyer can be a daunting task, leaving you open for more exploitations.
The seemingly most common tactic the insurance companies use to dismiss a victims' claim is pressuring them to settle for a ridiculously low amount. And sadly, most policyholders just grab on to it. This is because, after something like a serious car accident, where you already face large medical bills and productivity losses, most victims are just desperate for relief. The insurance company knows it, your attorney knows it and you know it too, don't settle for less.
Hire Skilled Attorneys Like Roberts & Spiegel
It might seem a little weird to hire an insurance disputes attorney to protect you from your own insurance company since these companies exist to protect you. But protecting you is obviously not the case; you have to act in your own best interest. Protecting you does not include:
Wrongfully denying your claim,
Paying you an insufficient amount,
Delaying your payment; or
Making unreasonable demand for you to fulfill.
Insurance claims usually arise after an awful accident has happened. Your family is most likely dealing with medical care, time away from work, it's all very hectic with the back and forth. You really don't need an insurance dispute but once it arises, you need to face it head-on and hire a Santa Maria insurance disputes attorney to help you. Yes, the process might take a longer time to bring you justice, but be rest assured, your case is in safe hands at Roberts & Spiegel Injury Law.
A Santa Maria Insurance Disputes Lawyer will know how to best serve you
If you have found yourself or a loved one in a wrongfully denied insurance claim, contact us at Roberts & Spiegel Injury Law. We will take up your case and fight aggressively to get you the justice you deserve. You can reach us at (805) 863-9036.
Request Your Free Consultation Now
Fill out the form below and we will respond immediately to help you with your questions.
Speak to our Experienced Santa Maria Insurance Disputes Lawyer
Have you or a loved one been injured or involved in a car accident? More often than not, these Insurance agents and adjusters are looking to shortchange or cheat you out of fair compensation for obvious business reasons. Insist on speaking with a competent Local Santa Maria insurance disputes attorney before you sign any settlement offer.
We have experience with handling these offers and we can naturally estimate fair estimation after an evaluation of your claim. Our Santa Maria insurance disputes attorney is ready to fight for you. Book a free consultation with us or reach out to us by placing a call to (805) 863-9036 to discuss your case.