We pay for ALL up-front expenses.
We don't get paid unless you do.
Calls, consultations, & questions are
always welcomed by our attorneys.
We will handle the stress of dealing with
insurance companies for you.
Selected as a member of the
Multi-million Dollar Advocates Forum.
Santa Maria Truck Accident Attorney
SKILLED TRUCK ACCIDENT LAWYERS SERVING SANTA MARIA, CA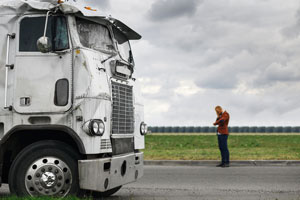 Big rig and truck accidents are a continuing issue in Santa Maria, throughout California, and around the country. With more commerce than ever before relying on the trucking industry, we are witnessing an uptick in accidents involving trucks and semis, despite ever-evolving industry safety regulations and standards set by the federal government. Our Santa Maria Truck Accident Attorney at Roberts and Spiegel knows what you're going through.
Have You Been Injured in a Truck Accident in Santa Maria?
If you have been injured in an accident involving a truck or semi, you may be entitled to compensation for your injuries, any damage to your car, lost wages, or pain and suffering. But trucking accident claims are extremely complicated. When you have been injured in a truck accident, you should get the guidance of an experienced Santa Maria truck accident attorney to advocate on your behalf.
At Roberts and Spiegel Injury Lawyers, we have represented thousands of clients and dedicated our careers to injury victims and their families. When you have been injured in a truck accident, put our decades of experience to work for you.
Truck Vs. Passenger Vehicle
When you consider the weight of a large rig compared to the typical passenger vehicle, it should come as no surprise why drivers and passengers of the car are far more likely to sustain devastating injuries when the accident involves a truck.
A loaded rig can weigh up to 80,000 pounds or 40 tons. That is the equivalent of twenty to thirty cars. Even when the truck driver sees the potential for an accident ahead and tries to stop, the momentum, size, and weight of the truck can take it almost 40 percent longer to stop than a car.
The Vulnerability of the Passenger Vehicle
When a collision involving something of this size and force occurs, the people inside the smaller vehicle are usually the unfortunate losers. In 2019, in California alone, there were 12,761 crashes involving large rigs, leading to 5,464 injuries and 452 fatalities, the majority of which were the drivers and passengers of the smaller vehicles. And the injuries sustained in these types of accidents are typically far more severe in nature. In many cases, they can be life-altering and, regrettably, even fatal.
Common Causes of Truck Accidents in Santa Maria
Every year, the Federal Motor Carrier Safety Administration puts out data regarding accidents in the trucking industry. And every year, driver error factors into a significant percentage of accidents involving large trucks and semis. Common driver errors when it comes to truck accidents in Santa Maria include:
Driver fatigue -- One of the most common forms of driver error in the trucking industry, fatigue plagues drivers despite being limited by industry hours-of-service rules. Unfortunately, violations of these rules are rampant.
Drug and alcohol impairment -- Driving while impaired is not only dangerous, but it is against the law. Although companies are required to test drivers before hiring and randomly during employment, impairment is a common cause of devastating truck accidents and car accidents on our roadways.
Driver distraction -- A trucker who is commanding a 40-ton machine should keep his or her eyes and attention on the road at all times. As we have seen far too often, any pause in concentration can end up causing a devastating accident.
Speeding -- The faster the speed, the greater the force of impact, especially when it concerns a large and heavy tractor-trailer.
Following too closely -- Maintaining a safe distance on the road is essential for anyone but especially critical for large rigs. Because a car sits lower to the ground than a semi, many override accidents. When a truck overtakes and crushes a smaller vehicle ahead of it, it usually happens at the hands of a truck driver who was following too closely.
There are many potential points of liability in trucking accidents, from the driver to the trucking company, to the entity in charge of maintenance. Because they are particularly complicated, injured parties should never try to navigate a claim on their own. Getting the help of our Santa Maria truck accident lawyers ensures that you have a skilled professional working on your behalf. From the very start of your claim, we take away that burden so you can concentrate on healing.
Getting Legal Assistance From A Skilled Santa Maria Truck Accident Attorney
If you have been injured in a truck accident caused by the negligence of a truck driver or trucking company, you may be entitled to compensation for your injuries. The experienced Santa Maria truck accident attorneys at Robert and Spiegel Injury Lawyers. work relentlessly to get the compensation you need and deserve after a serious accident. Contact us today for a complimentary consultation. We serve Fresno, Santa Maria, San Luis Obispo, and other surrounding communities.
Request Your Free Consultation Now
Fill out the form below and we will respond immediately to help you with your questions.
Speak to our Experienced Santa Maria Truck Accident Lawyer
Have you or a loved one been injured or involved in a truck accident? More often than not, these Insurance agents and adjusters are looking to shortchange or cheat you out of fair compensation for obvious business reasons. Insist on speaking with a competent local Santa Maria truck accident attorney before you sign any settlement offer.
We have experience with handling these offers and we can naturally estimate fair estimation after an evaluation of your claim. Our Santa Maria truck accident lawyer is ready to fight for you. Book a free consultation with us or reach out to us by placing a call to (805) 863-9036 to discuss your case.